All teachers know that young children cannot easily digest complex grammatical rules and terminology. So how is grammar to be taught to students of such an age? Through games, of course! Being able to improvise and make the most of the childish imagination, a teacher can work miracles in a junior class. The game in the following photos is a case in point.

In that specific lesson, students had already been introduced to the Present Continuous, which, to them, is a train of words we use when we want to talk about something we are doing at the moment of speaking. The class was about to be dismissed, but something was missing: that playful attitude that will make every little student truly want to come to school again for yet another lesson.

The activity I then decided to implement was this (which, in its simplicity, required no preparation beforehand): All students, one by one, got the chance to stand up in front of the board, choose the word they want to 'represent' and stand below it. Then, the rest of the classmates could help them to change order depending on the sentence we wanted to form: affirmative, question or negative. The naughty 'not' made all the difference in the end, especially when it was added to the sentence 'I am studying'!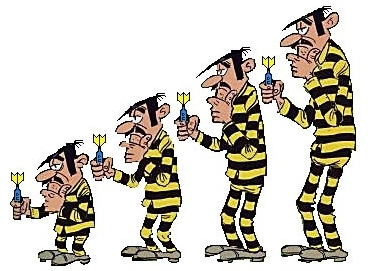 The students in the first photo chose to stand in an ascending height order, which bore a striking resemblance to the way Daltons traditionally stood and walked, with Joe, the shortest, leading the way. The association added to the fun, as well!