Curling up with a good ebook


It has long been predicted that traditional books are about to be replaced by little machines on which you can download any novel you fancy. But the technology has never really been up to the job - until now. Here Andrew Marr, who treasures his smelly, beautiful library of real books, spends a month with one of the new gadgets.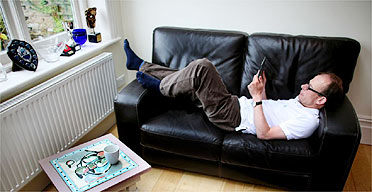 If you are selling ebooks, I'm a hard sell. For one thing, my enthusiasm for traditional books is just this side of pervy. I live among mountains of them and always have, among the most beautiful mass-produced objects of all time. Some of my most treasured possessions are broken-backed, scribbled-in, jacketless books first read when a teenager; they've lasted longer than merely human friends. One variation of bliss is a low, soft armchair with decent light and several hundred well-written pages to wallow in. I like it that, with all these warnings of electronic smog, books don't plug in, beep or suddenly produce pop-ups. They are pleasingly silent and dignified, there when needed, discreet and patient.
I like certain paperbacks - those old Penguins, the Picadors of my youth - but hardbacks remain the most sensually attractive, good cloth covers - powder blue, or cream, preferably - and thick, matt paper and a classic typeface in dark ink. Illustrations? Yes, please, but not too many. When I eventually become a nasty-minded, dribbling old man I'm sure I will be found creeping round second-hand bookshops, sniffing the produce, snuffling with pleasure.